"Click" onto "Our Store Front"
Welcome to our RTS page! Over the past several months, we have added many new and exciting items to our inventory specifically for your type of coach. We currently have many, many more items for your vehicle than we can possibly list here. We stock items for your air, air conditioning, engine, lighting and electrical systems, just to name a few areas. We have a significant number of body panels, ready to be put directly onto your coach!
Our BASIC PARTS CATALOG - SUMMER 2017 edition is located on our Products Catalog page and is available for download and printing from your home computer. The Products Catalog page is located on the toolbar to the left. We are working on our newest catalog which will be introduced before next spring.
Our current newsletter is now available. It is available at busfixx.blogspot.com. We are currently discussing air conditioning components and their function in making a good system. In addition, we have our previous newsletters uploaded.
We are constantly updating and increasing our feature items on our website. Be sure to bookmark this page and check back regularly to see what we have added. Also check out our engine, generator, remanufactured components and Webasto pages.
We have many, many hard to find RTS parts in stock and ready for immediate shipment. If you do not find what you are looking for here, please contact us by phone, fax or e-mail so that we may assist you further. We look forward to doing business with you.
Remember to check out our home page to see our "specials". Since we change our special frequently, if you don't see something that benefits you now, check back with us.
If you have a Webasto or Aqua Hot heating product and are interested in learning more about them or have a nagging problem that no one seems to have an answer for, you have found the right placed to go to. We are running a special on these DBW2010 24V heaters including tray and case for $2,500.00! This price is less than half of the retail price on these units.
We are one of the oldest Webasto stocking distributors and premier warranty and repair facilities in the USA. We are knowledgeable with the entire Webasto product line and offer free technical support world-wide.
Have you ever wondered.....? If you have, we may have the answers to some of those nagging general maintenance questions. We have added a "frequently asked questions" page to our site. While we will continually add new questions, we are currently focused on general maintenance. If you have a question that is not listed there, feel free to enter it and we will research it and post both the question and answer on our page. If you have a question, many others may have the same one. Take a minute, look at the questions and feel free to pose one of your own.
Link to Frequently Asked Questions
Click on the link below for an interesting walk through the history and making of the 50DN alternator - the alternator most often used on motorcoaches. After reading the information provided the importance of using a qualified rebuilder will be more than obvious. So, take a minute to take a look.
Take a look at the following below to see what you might be missing on your annual service. The service list contained in our link is the type used by major transportation companies throughout the nation. It contains all items necessary to meet all D.O.T. requirements. Feel free to print a copy for your future reference.
12,000 Mile/Annual Service Sheet
We have just received new stock items for RTS! Many of these items are hard-to-find body parts including driver panels, hinges, aluminum spacers etc. We will be showcasing them over the next several weeks! They will also be a new addition to our latest catalog which will be available online shortly. Check back for an update on these new items!
Polyurethane
These polyurethane stablizer rod busings can withstand oil, fuel or heat and improve riding stability. These cost a little more than rubber, but once installed you can forget having to replace them again. Original Duro 50 are also available.
We are now stocking front and rear brake chamber assemblies for the 04 an 06 RTS coach. Use the link below to go directly to our store.
Part #2025840 Front chamber (left in photo)
Part #2025829 Rear chamber (right in photo)
Click here to order chamber #2025840
Click here to order chamber #2025829
Emergency Hatch
We stock complete emergency exit hatch units that are ready for immediate installation. Please give us the length and width of your unit. Call today for pricing.
Electronic Shift Pad
Our newest item offers substantial savings to RTS coach owners who have a V731 electronic transmission. Our featured product is the O.E. shifter cover kit. Compare our price to that of Detroit Diesel and save today!
Part #29511863 Kit Detroit Price $215.00 Our price $150.00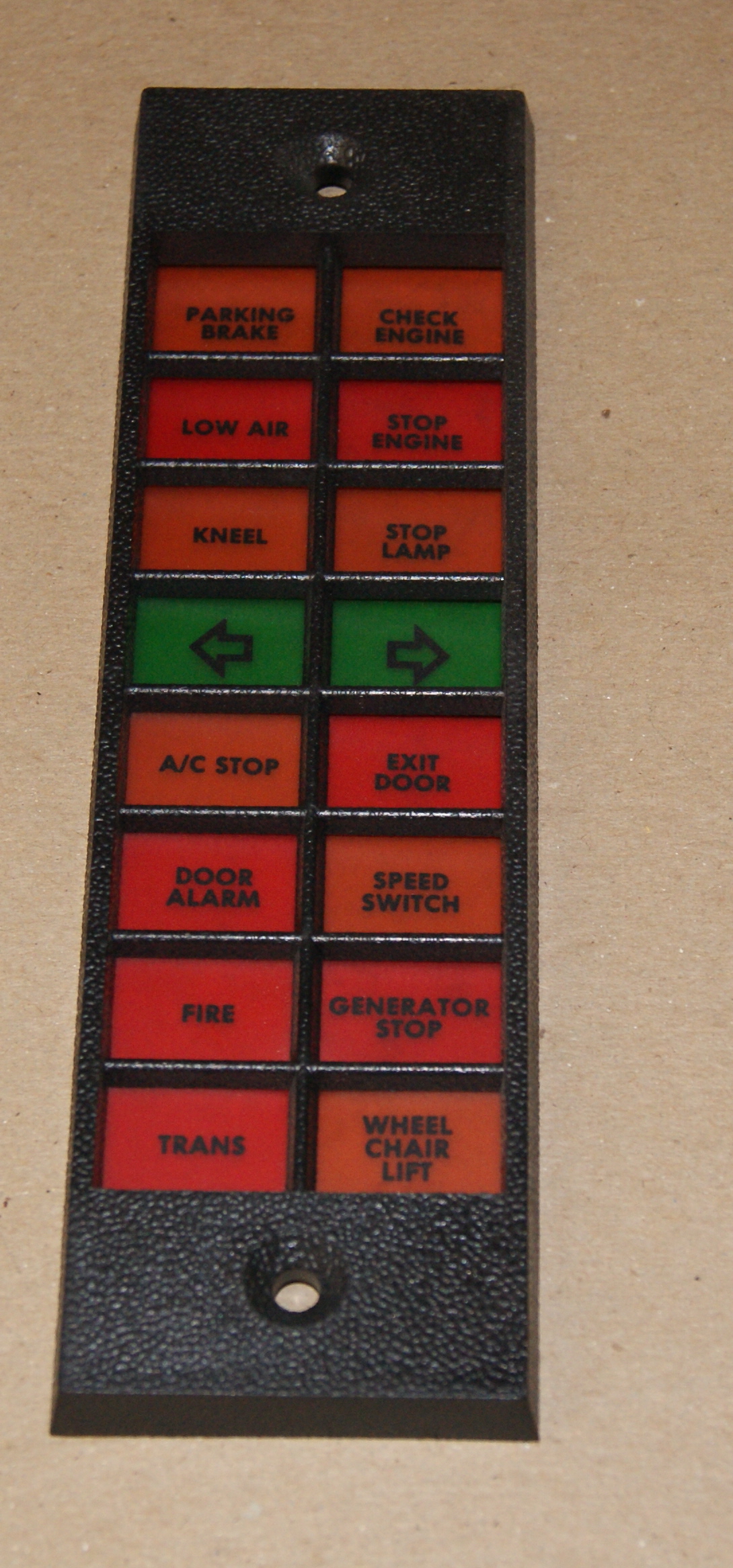 WOW! Have you been looking for that lighting lens cover and have been unable to locate one? We have a substantial inventory of this lens and many others for both your dash and your coach body. Check us out today!
Part #12004039 Lens Cover
Introducing......while this is not a new item for us, it is a new item for our web page. If you are getting water up inside your dimmer switch, we have just what you need. We stock the original cover that will protect your switch from the rain and grime .Yes, we have the dimmer switch's as well.
Call for prices.
New in box Is 65-80
New Picture Added!!
New 12/2010 VANNER, 65-80 Amp. This equalizer is capable of taking care of all of your needs. Call for your pricing on these brand new units.
Wheel and Hubs
New Item!!! Front Hub-Cap (Aluminum) with plug
Part #15514846
Click here to order part #15514846
Mirrors
Beautify your coach while increasing your visibility. Brand new mirrors with 6" convex are now available. Part number is the same for both sides of the coach.
Part #2025447-B Side Mirror
Filters
Part #683557 - Power Steering Filter
Other power steering parts..... we stock complete rebuild units and all the component parts to replace rebuild or repair your Vickers power steering pump, TRW -TAS 50 thru 70, HFB, power steering boxes, tie rods, drag links, king pin sets, air bellows, levelers, polyurethane and standard suspension rubbers, etc....
Part #2452110 Washer, Special Copper
Part #2494298 Vane Kit
Part #907415 Bearing
Part #2494292 Shaft