Continuing on the line of increased cost but also saving money, we are offering rebuild or maintenance kits for many Bendix valves. Below is a partial sampling of the kits in stock. If what you need is not listed, please call us at 888-287-3499 for availability.
Kits -
Part #107798 AD9 Maintenance
Part #108368 E12 Maintenance
Part #229417 TF700 Maintenance
Part #276121 D2 Governor Maintenance
Part #279615 Unloader
Part #281127 PP2 Maintenance
Part #281138 TR2 Maintenance
Part #282134 DV2 Field Maintenance
Part #287368 E6 Dual Brake Valve Maintenance
In addition, we have rebuilt valves available for immediate exchange with a rebuildable core. Those valves include TR2, inversion, R6, PP2, DV2, E6, E12, and many others.
We are stocking all parts needed to rebuild DD3 brake chambers and these chambers are also available for exchange. A large variety of air chambers and replacement diaphragms are also in stock.
Maintenance items for air dryers, such as AD2, AD4 and AD9 include thermostat, purge valve, cover and dessicant. The cover and dessicant are available for exchange. All other items are sold outright.
The illustration that follows is presented exactly in the Bendix Air Brake catalog. It includes the list of part numbers for each of the items used in the rebuild of this DD3 chamber.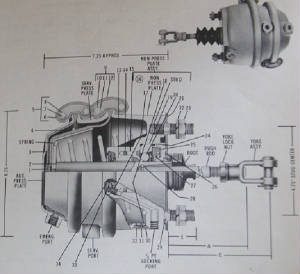 Expand photo to see a complete picture so you can place your order by number.
Alternator adapter drive components in stock:
Adapter drive housing
Part #7G-3-2 Shaft
Part #7R-3-60 Bearing
Part #4A-7-59 Stud
Part #7R-3-65 Plate
Part #7G-3-3 Large Gear
Part #7J-3-19 Small Gear (18 Tooth)
Note: The large and small drive gears for direct drive alternators are available in two different sizes. When ordering be sure to have the number of teeth on your gears.
Don't forget things like the mounting gaskets and the special nut nut on the drive gear.